From Hollywood Dreams to Workshop Success: Embracing the Spotlight at Inion Arts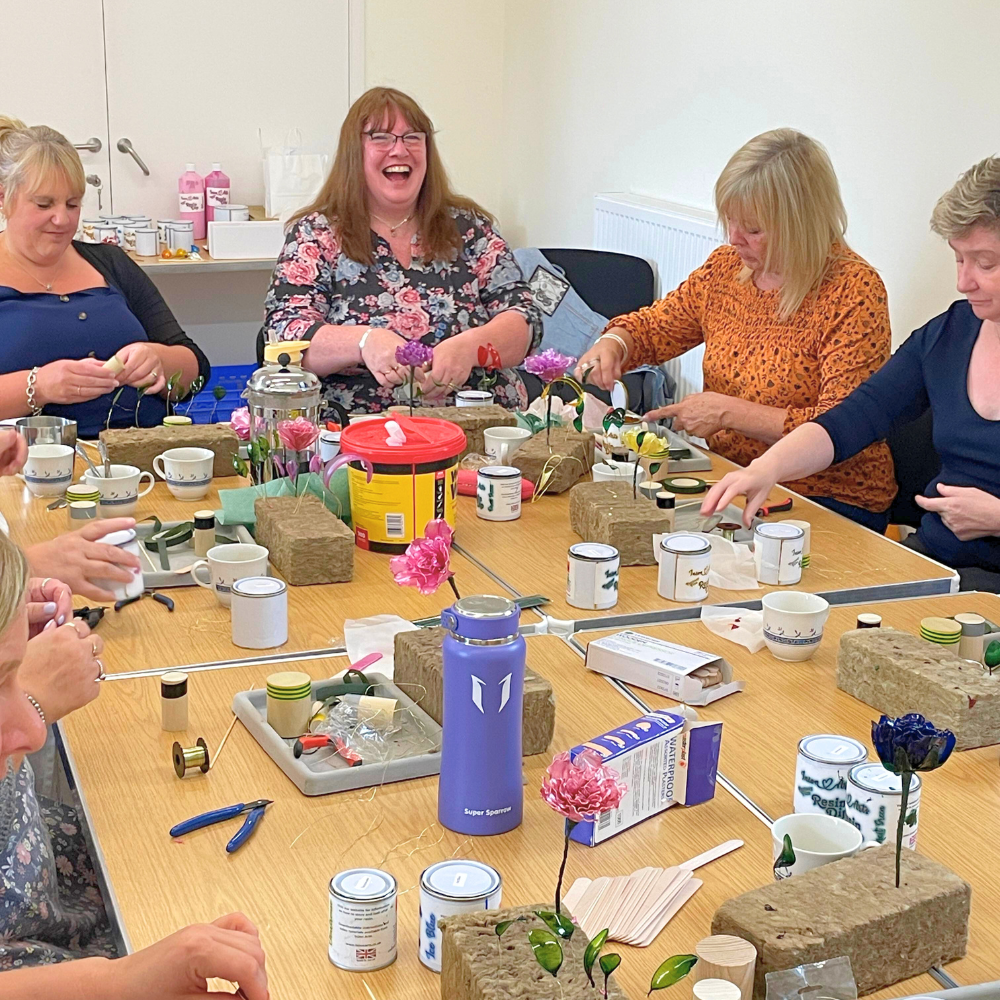 As a precocious young student in a tiny primary school, I discovered my natural flair for acting, setting the stage ablaze with my unforgettable portrayal of a small white mouse who crept around the house and wasn't afraid of anything. Decades later, my performance is still talked about, granted, it is mainly my mother who talks about it and not much happens in a small village, but I can say with all certainty that I outperformed Jerry in my role of the mouse, and while Hollywood inexplicably failed to come knocking after my A-Level Theatre Studies, I've found a new stage to shine on – the world of resin dip workshops.
From Centre Stage to Resin Magic: Crafting Success at Inion Arts
While Hollywood's call never came, my creative spirit found a new outlet in crafting, particularly in the enchanting world of resin. In the realm of Inion Arts, I've embarked on a journey of shared creativity and joy, one workshop at a time. Our workshops are more than just gatherings; they're a fusion of entertainment, education, and camaraderie. Despite my Oscar winning performances (or perhaps because of them) Inion Arts always gets good reviews when it comes to their workshops and make and takes today, I want to tell you about two recent different type of workshops we have held.
Zooming to Success: Crafting Community Across the Nation
The first workshop was our memorable collaboration with the John Lewis Partnership Craft Club. Transcending travel barriers the workshop was held over Zoom. Before the workshop we sent out 30 poppy kits with a zoom link and on the day Zoom's virtual stage brought together 28 enthusiasts from diverse corners of the country. Together we made an exquisite poppy from start to finish. The participants were lovely and really engaged with the resin and the instructions. Some people had used the resin in the past and the workshop evoked childhood memories which participants shared with the group. At the end of the workshop everyone had enough resin and accessories to make some more poppies in their own time.
The workshop's triumph resonated so profoundly that an encore was inevitable. Another Poppy workshop has been booked for November, and it sold out it 2 days! This was quickly followed by another booking for a Mistletoe and Holly workshop in December. It is great when a workshop goes so well it is rebooked almost immediately. I am looking forward to the workshops and the new experiences they will bring.
Unveiling Beauty Amidst Rain: Crafting Roses at Westridge Studio
Braving adverse weather and wet surroundings the second workshop took us on a journey to Highclere's Westridge Studio, a place teeming with history. Highclere is a beautiful village known for a wonderful castle known for Downton Abbey. The castle is the family home of the Earl of Carnarvon and has many links to Egypt and the discovery of Tutankhamun's Tomb. Westridge Studio also has links to Dr Who!
The weather was atrocious, everything was very wet, and it was hard to swim across the car park while carrying tins of resin. We got the tables and chairs set up, laid out the tables and had time to grab a quick sandwich before everyone swam up to the front door.
In this workshop we made roses. I had mixed a lot of colours that I though would be excellent rose colours. I did my little intro and everyone laughed in the right places and then we got started. Together we made one rose and when that was complete in the time that was remaining everyone had a go made lots more roses. They turned out beautifully and I was amazed at how fantastic everyone did. The roses were gorgeous some of them I really wish I had made.
These are some of the amazing roses made at Westridge. Many thanks goes to Gwyn Lockett for taking the pictures and bringing his lovely wife Helen.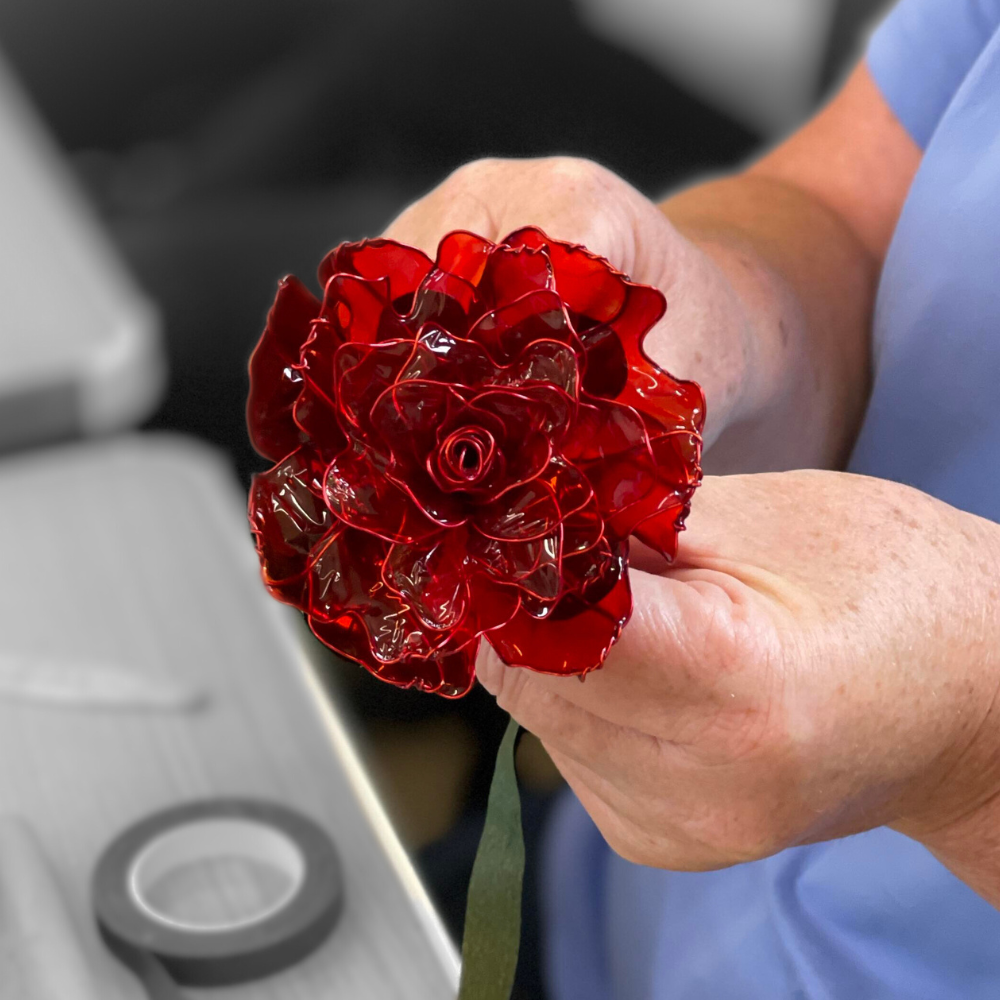 Gorgeous Ruby Red Rose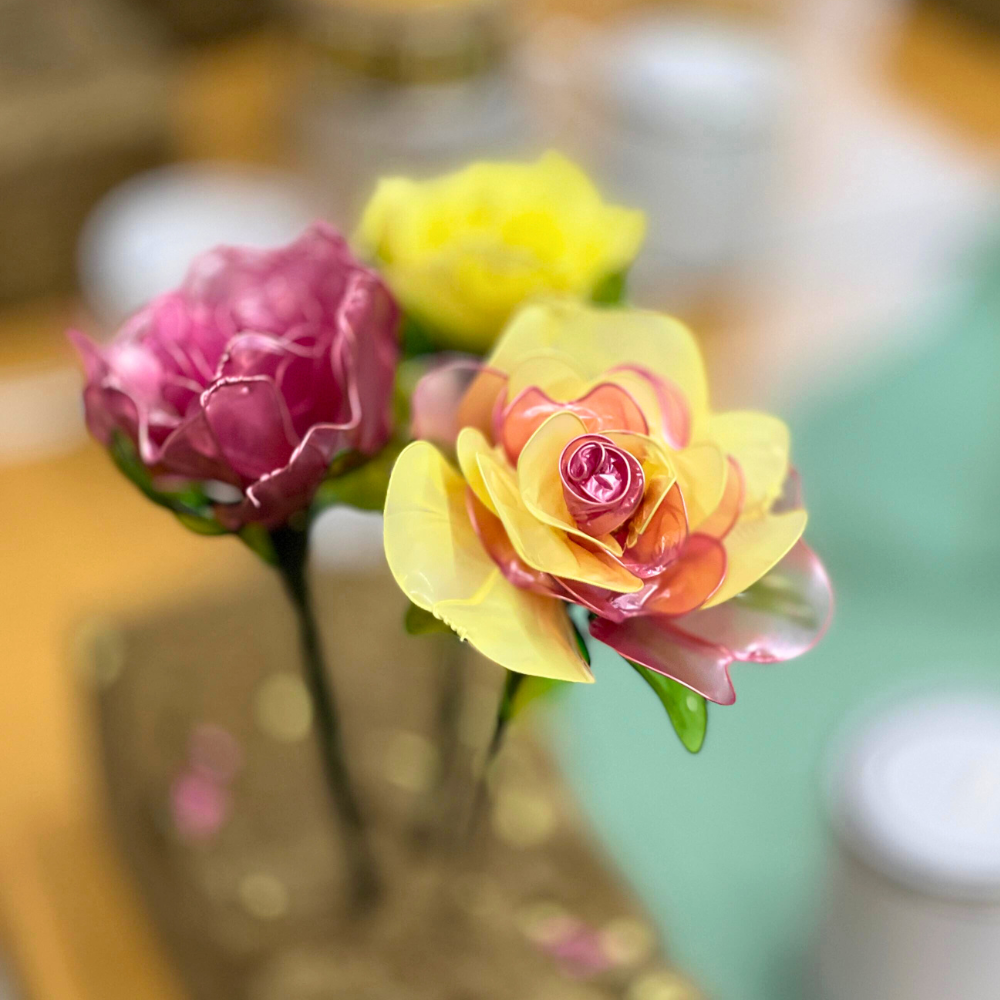 Resin dip Roses in Cream and Fuchsia Shimmer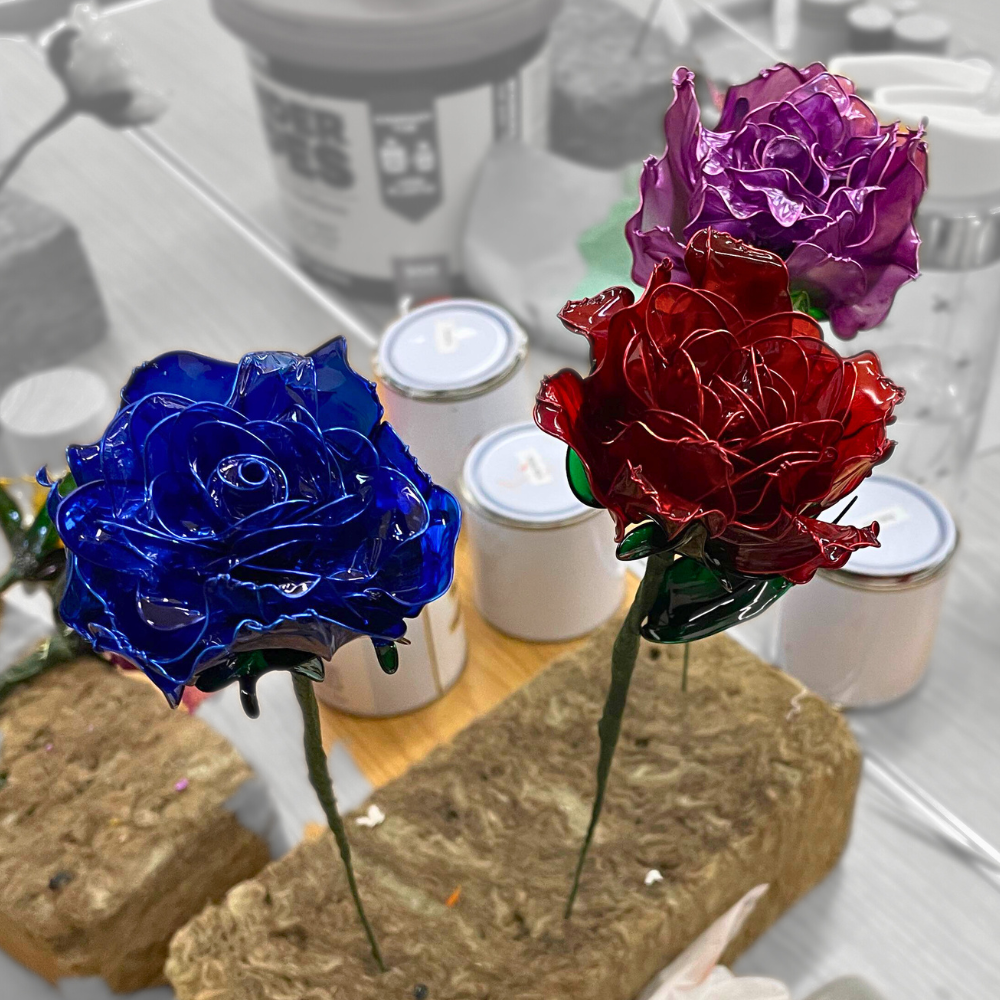 Ruby Red, Hawaiian Blue and Sunset Purple Roses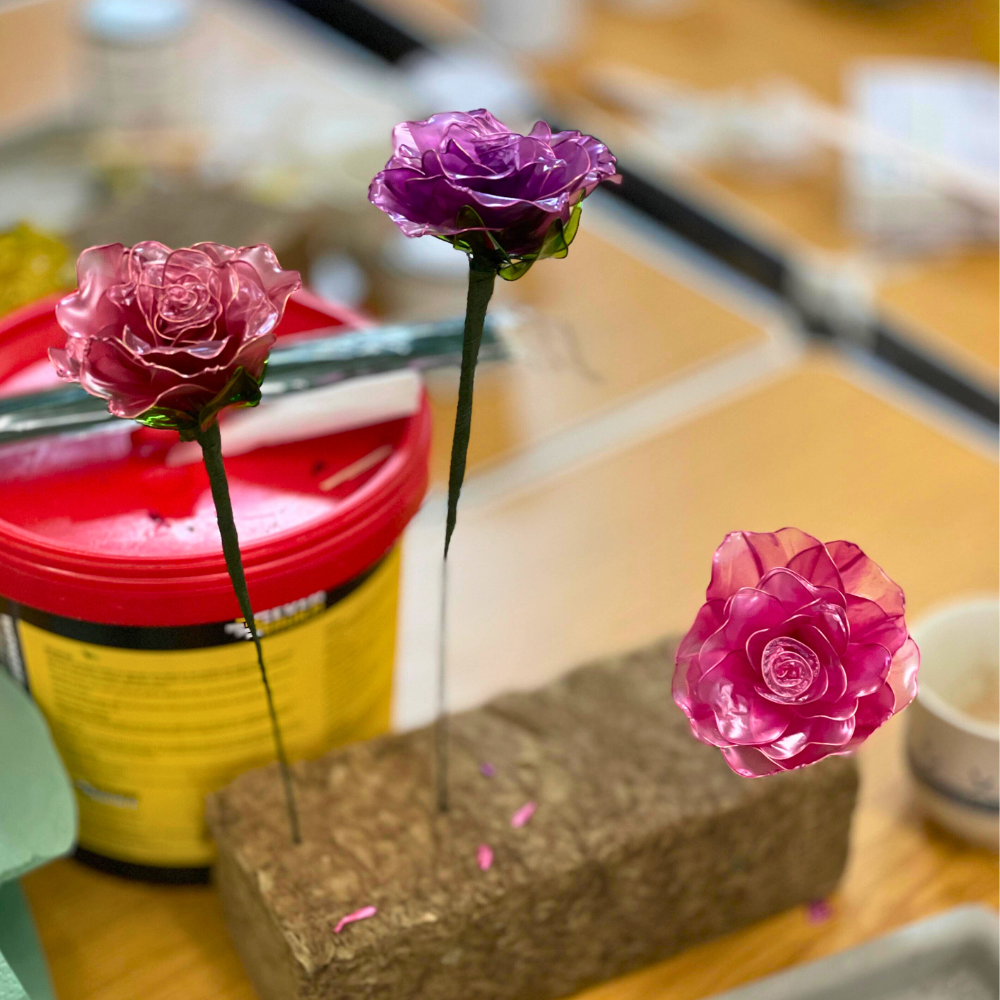 3 Beautiful Roses in Sunset Purple, Rosy Shimmer and Fuchsia Shimmer
Spotlight on Success: Balancing the Virtual and Tangible
Drawing the curtains on two distinct workshops, the question arises: is one superior to the other? The answer resounds in the shared enthusiasm, the joy of learning, and the triumph of creativity that characterize both in-person and virtual workshops. Zoom workshops offer a streamlined experience, while in-person gatherings imbue physicality and extended interaction. With the zoom workshop all the preparation is done a long time in advance, the kits are sent out and the colours are already chosen. I just turn on the laptop and off we go. It is harder to monitor how people are doing, but I have found regularly stopping and making sure people are with you helps combat this, also making sure they are speaking up when they get stuck. With an in-person workshop there is a lot of things to do on the day or the night before. There are more resins available for people to choose colours from, there is the setting up of table and chairs and there are refreshments to buy. You have no idea how much planning goes into making sure everyone has a doughnut or some strawberries. Once the workshop is all over there is the cleaning up and sorting the resin out. It is more physical on the day than the Zoom workshops. In person workshops tend to be longer too.
At Inion Arts, our focus remains unwavering – crafting an enjoyable, enriching experience for all, a commitment reflected in our glowing Trustpilot reviews.
Join Our Creative Odyssey: Awaiting You at Inion Arts
I invite you to join our ongoing creative journey at Inion Arts. Our calendar dances with workshops and make-and-takes, each an opportunity to unlock your inner artisan. Discover the magic at https://bit.ly/3qqYXj2, where shared creativity and unforgettable moments await. Embrace the spotlight with us, and let your creativity shine on the stage of Inion Arts.
Thank you for taking this journey with me.
Warm regards,
Abby